Our base
Our base is located in the marina Tehnomont Veruda, in the well-protected bay Veruda in the southwest of the Istrian peninsula. It is 3 km away from the city centre of Pula and the famous amphitheatre and is an excellent starting point for exploring Istria and the nearby Kvarner islands.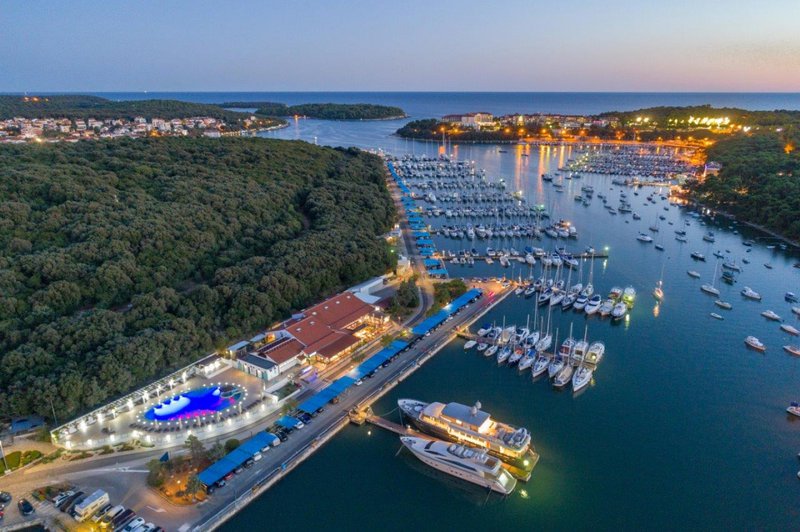 Marina details
| | |
| --- | --- |
| Adress | Cesta prekomorskih brigada 12, HR-52100 Pula |
| GPS | 44° 50,35' N , 13° 50,58' E |
| Number of berths | 630 |
| Number of dry berths | 150 |
| Water depth | 1.0 m - 4.0 m |
| Phone | +385 52 224 034 |
| Phone | +385 52 385 395 |
| E-mail | recepcija@marina-veruda.hr |
| Web | www.marina-veruda.hr |
Marina Veruda, one of the pearls of the local coastline, is ideally located in Veruda bay, fully sheltered from both winds and waves and, as such, it provides safety to yachters, because there is almost no threat either from the sea, the land or the air that could endanger the vessels moored at its piers.......
The extensive Veruda bay, located south of the city of Pula, has always been an idyllic fishing port. Surrounded by lush and pristine Mediterranean vegetation, this area was ideal for the ever more demanding requirements associated with tourism; therefore, we chose precisely this spot to build our marina: a gate opening to the whole Adriatic. Marina Veruda lives intensively, and not only in the summer months, but all year round. The marina stretches along 1500m and its location offers a safe shelter from all winds. All 18 piers are equipped with electricity (220 and 380 V) and water supply. The marina has a capacity of 630 berths for vessels up to 40m (mega-yachts also possible) with draught up to 4m. The water depth in is between 1 m on the extreme NE part to 4 m on the SW part of the marina.
Marina Veruda has plenty of advantages, but it would be best if you, dear guests and sea lovers, visited our marina and saw for yourselves. 
In order for you to feel at home, our professional and friendly staff will make sure that your stay here is more than pleasant and that all your wishes are fulfilled. 
The drivers of our success are professional staff, teamwork, and friendly atmosphere, which result in high quality service, professional support and satisfied guests. 
Natural beauties, protected landscape and unspoiled nature are only a part of what you can experience while sailing to our marina.
Marina infrastructure
Marina Veruda offers you everything you need for a successful maritime holiday:
Reception
Exchange office
Grocery shop
Restaurants
Bar
Swimming pool
Children's playground
Laundry service
Sanitary facilities
Repair shop
Nautical equipment store
Petrol Station
Where can you find us?
Our office is located in the central part of the marina, opposite the pier 8.
Our fleet is located on pier no. 12, close to the restaurant.
Booking manager - Sabina Ličina
Base manager - Dejan Dejanović
SUMMER TIME

| | |
| --- | --- |
| Monday - Thursday: | 08:00 - 16:00 |
| Friday: | 12:00 - 20:00 |
| Saturday: | 08:00 - 20:00 |
WINTER TIME

| | |
| --- | --- |
| Monday - Friday: | 08:00 - 16:00 |
Parking
The marina has sufficient parking spaces which are monitored 24 hours a day. The price is 70 KN per day (cca. 10 €).
Transfer
Pula Airport is 12 kilometres away from Marina Veruda, and Rijeka Airport is 137 kilometres away. If you want transportation from the airport to our base, let us know at least a week before the charter. We will be happy to arrange a transportation for you.